Whats On
Snowy Mountains Trout Festival 2017
Running from the 4th until the 10th the Snowy Mountains Trout Festival is a great time to be had by all!
For more information check out the webpage or Facebook page
Looking for a team to jump on board with? Check out the details below of how to enter the Snow Goose Team.
$14 Jugs
Every Friday from 4pm until close.
$14 tap beer jugs!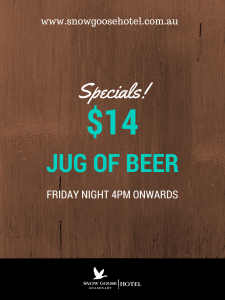 Tight A Tuesday
The sun is shining, spring is in the air! So come on in for our pub favourite $10 schnitty!
Every Thursday and Friday Night
July 13, 2017
Each and Every Thursday and Friday Night, The Snow Goose Hotel runs patrons draws and meat raffles.
So come on down, enjoy the warm atmosphere and have a cold ale at the Snow Goose
A portion of Thursday Meat Raffle is supplied by and supports our "Royal Adaminaby Golf Club"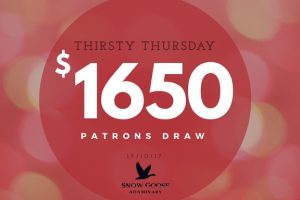 You have to be in it to win it! so come on down
We Have Brought Back the Sunday Roast
July 9, 2017
AVAILABLE EVERY SUNDAY
Because we love to provide our patrons with quality, well prepared meals we have brought back the Sunday Roast!
Yet, we didn't think just a Sunday Roast was enough. Therefore we made it only $20! In addition to that, we will throw in a complimentary glass of House Wine or a Schooner of beer!
The variety of roasted meats change from week to week, so you could dine every Sunday and never get board!
The Snow Goose Jolly Trolly
Don't forget our Free Pick up & Drop off service. Climb aboard the Jolly Trolly and don't worry about the car.
Call us on 02 6454 2202 to book your seat