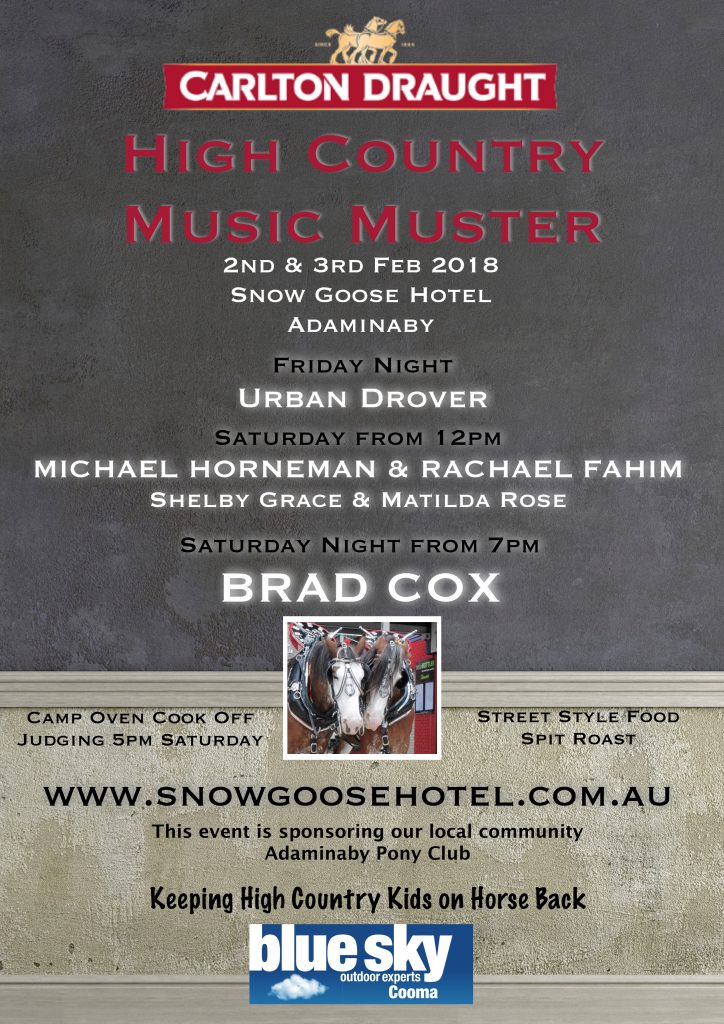 It has been months in the making, but we can finally share the exciting new!
So here goes, the Snow Goose Hotel and Carlton Draught are proud to introduce the High Country Music Muster! Coming to Adaminaby on the 2nd and 3rd of February 2018!
A great weekend for the whole family!
Live entertainment, great food, camp oven cook off and good old fashion country hospitality.
Now it wouldn't be in the country spirit if we didn't support one of our local sporting groups, so our very first muster will be raising funds to help out the Adaminaby Pony Club and keep high country kids on horseback.
So without further delay, allow us to present our exciting line up of entertainment on the Miners Transport Main Stage!
Lets get the party started on Friday Night with Urban Drover
Once we recover from Fridays efforts we will ease into Saturday with Shelby Grace and Matilda Rose alongside Michael John Horneman and Rachael Fahim, the current Toyota Star Maker.
While you enjoy the amazing talent, check out what else our festival has to offer. From the camp oven cook off to the local yarns.
For a big bang on Saturday, party the night away with Brad Cox
There will be so much to see and do you just can't miss out!
Tell your mates, share the post and #SeeYouAtTheSnowGoose!
The Artists
Urban Drover

Urban Drover are a 7 piece band based in the ACT. Always full of energy and a real crowd pleaser! UB will be entertaining the crowd well into the night on our opening night, Friday the 2nd of February 2018. Make sure you don't miss them
Shelby Grace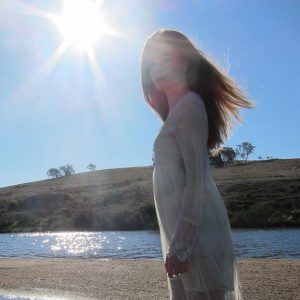 Local girl, Shelby Grace has been hitting the stage and pleasing crowds since a young age. At only 15 years of age, Shelby sure can hold her own infant of a crowd. With easy listening country tunes, you will be able to hear and see Shelby preform during the day on Saturday on the main stage.
Matilda Rose
Also a local las, Matilda has a eclectic style and enjoys turning her hand from country music to folk music, adding to her unique musical style.
Coming from the small town of Bredbo NSW, Matilda has has a great deal of support through her musical career, right from being a 4 year old stealing the stage at the local carols event.
Having recently been named the 2017 Secondary Champion at the Australian National Busking Championships Matilda is well on her way to stardom
Preforming on Saturday the 3rd, don't miss Matilda in Action!
Brad Cox
Ripped feet first from the belly of the Kosciuszko Mountains, stubby in hand. Baptised in the freezing head waters of the Snowy River, Brad Cox! Brace yourself. Songs full of heart and maturity well beyond his years. A sound which can induce hypnosis and coma. You may require medical attention after hearing Brads music, but no rehab will ever cure you of the addiction. Live on Saturday night at the High Country Music Muster